The days are getting shorter, nights are getting colder and the road to Christmas is lined with far too many temptations. While we know it's getting harder to stay out there conquering frost-covered territory, now is the time more than ever to  keep your empire in check. As the fair-weather runners fall behind, this is your chance to truly reign…deer (sorry).
We hope you've all been enjoying the features we released just over a month ago. At Run an Empire we're all about that festive spirit, and in the spirit of giving, we're providing even more motivation to keep expanding your empire in the form of a couple of key new updates.
Want to see these changes yourself? Download the latest version here.
NEW HEX GRADIENTS
While our previous release included some updates to the leaderboard and the more social aspects of the play experience, we've now made a fundamental change to the map view of the game, which we're pretty excited about.
Welcome to our new hex gradient scheme.
With fresh colours, bolder contrasts and clearer differentiation between gradients, it's now easier than ever to instantly assess the state of your empire.
The new gradient spans from red to blue, with oranges and greens in between. The hexes that are hardest to steal from your opponents will appear a dark, bloody red. The hexes you've got the most control over will appear a bold, royal blue.
Where you're tied with an opponent, the hex will be grey, instead of white as it was before. This is a pretty important differentiation, as white hexes now only represent hexes that nobody has visited yet. So if you see a white hex – grab it! There's nothing like the satisfaction of being the first to claim fresh land. Not to mention the fact that it'll earn you some extra points.
We're thrilled with our fresh take on the map view, and hope you are too. If you ever need a refresher on what the new colours mean, you'll find the details in the tutorial section of the app. Just tap the 'Settings' tab on the bottom navigation, and enter 'Tutorial.'
INVITE FRIENDS, EARN REWARDS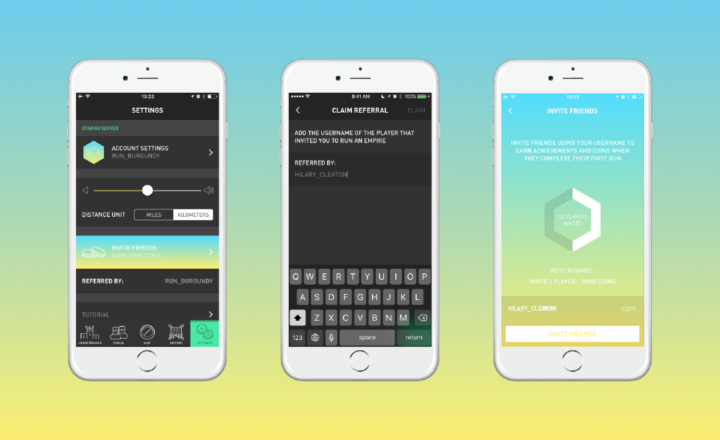 We know some of you are deep in the midst of bitter, long-standing battles with that one player that just won't leave your territory alone (I'm coming for you, RUN_WEASLEY). However, sometimes it's good to get some fresh players in the mix to spice things up a bit – or throw off your opponents.
We're now offering rewards for introducing your friends to the game, with our new 'invite' feature. Get a friend to sign up quoting your username, and you'll both earn 5,000 coins after their first run. Keep successfully inviting friends to unlock new achievements and rewards!
Simply tap the settings tab in the navigation bar and hit 'Invite' to get your friends on board. Alternatively, you can click the 'invite friends' button from the social tab, if you want to take stock of your current list of nemesis first.
STAY TUNED FOR MORE NEWS
That's it from us this time, but keep your ears pricked for more news to come. We hope you enjoy the new features in the meantime, and as always, feel free to get in touch via the comments below or any of our social channels. Now get out there and conquer!
Comments
comments